Take Your Event To The Next Level With
Interactive Game Rentals In Austin, TX
When it comes to taking your party or event to the next level, you just can't go wrong with some of the best interactive game rentals in Austin, TX. 512Bounce is proud to offer a great selection of fun and safe interactives. Whether you're looking to host an American Gladiator type event with our inflatable gladiator joust rental, or putting on a team building exercise with our wrecking ball or even hopping in our 3 in 1 Galaxy Games for a real life version of Hungy Hippo, we are confident that 512Bounce has exactly what you're looking for.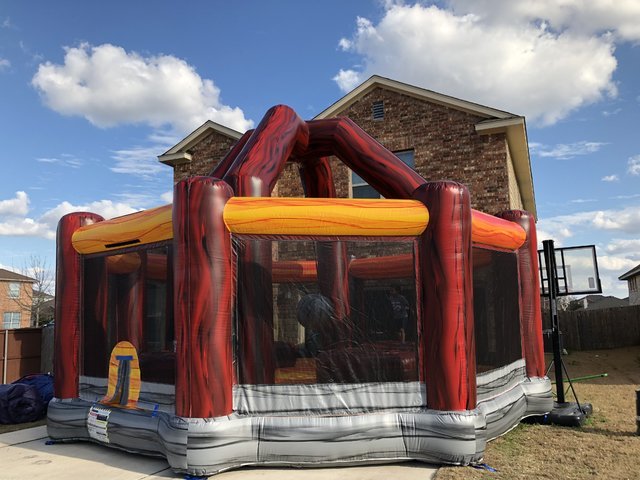 Inflatable Wrecking Ball
This exciting "Wrecking ball rental" has come to Austin, TX and is available to rent for your party or event in Austin! This is the ultimate high energy game. 4 players take their spot on top their pedastal. One player Grabs the wrecking ball and swings it at any of their opponents trying to knock them off their pedestal. The last person standing is the CHAMPION!!
Inflatable Wrecking Ball
If you are planning a large event with lots of attendees, there's no doubt that you will definitely want to consider an inflatable obstacle course rental. 512Bounce will deliver this incredibly eye catching obstacle course. Don't you think it's time to finally settle the score between you and your best friend or boss to see who is REALLY the fastest? Also, the great thing about an obstacle course at a large event is the fact that there is a constant flow of people. Nobody likes waiting in line, so your guests will be spending more time having fun.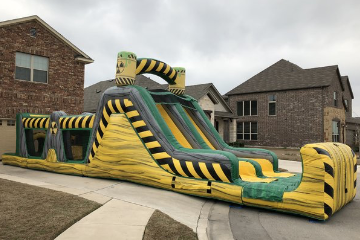 Nuclear Obstacle Course
This exhilarating "obstacle course" is here in Pflugerville and is available to rent for your party or event in Austin! This Obstacle Course is 47 feet long.
Nuclear Obstacle Course
Another great addition to any large event is our bungee run rental. Your guests will be safely strapped in to a vest attached to a bungee cord. They will then fight and claw their way to the end of the bungee run to see if they can get further than their opponent. All of these great interactives are sure to work up an appetite for your guests as well. Be sure and check out our cotton candy machine rental or any of our other tasty concessions.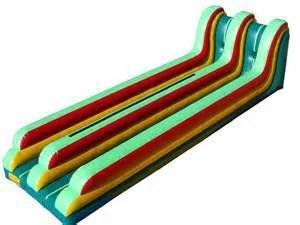 Bungee Run Rental
This amazing bungee run rental is available to rent for your party or event in Pflugerville! This classic inflatable game features plenty of colors. There's also a stretchy cord for your guests to pull against as they race to the end.
Bungee Run Rental
So...are you ready to take your event to the next level? Our friendly, knowledgable staff is available to answer all your questions about our interactive game rentals. With so many options, the hardest part is going to be which ones to choose. We are happy to help guide you through the process of picking out the perfect combination of items. Call today at 512-783-4643 or conveniently order right here on our website.