Renting A Large Bounce House for Your Next Kids Party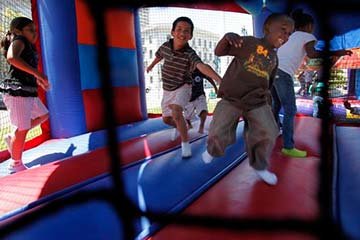 We know exactly what it's like to plan a birthday party every year for our children. We try to top ourselves the next year and it takes fervent planning, time, and waking hours to get it just perfect. There's the theme that needs to be considered, loot bags, cake, decorations, and most importantly entertainment. When your kids were youngers, your focus was to keep the adults entertained while the babies rolled around the floor. But now, they're walking and get bored after two minutes. At 512bounce, we have the perfect solution for you.
With our inflatable party and concessional rentals, your party will be the talk of the town for months to come. Be a trendsetter and rent one of (or many of) our inflatable bounce houses, water slides, ball pits, or a magic castle inflated for optimum ball pit fun. It's easy! You can choose by date or by availability of equipment. We come early to set everything up for you so that you have your entire rental time to play! All we need from you is the space, the time, and a power source strong enough to keep the large bounce house inflated.

As a family-owned business, we know just how important fun times are when you're young. You want your kids to remember the party you put so much effort in planning. A bouncy house party gives children of all ages hours of fun. Every child will be able to jump to their heart's content without so much of a semblance of time. It takes away one less worry when you rent a jump slide or a pirate bay inflatable to have an awesome bounce party. With a high maximum weight, your whole party, whether it's 5 children or 15, can have a mighty bounce. Whether you want to bounce, slide, or race, 512bounce has it all with our inflatable party and concessional rentals.

Getting ready for an outing with that many kids makes even the most experienced parents uneasy. Keeping a group of children of more than three can be a hassle since every one of them wants to see something different. Plus, there's the packing of the emergency bag with extra diapers, clothes, water bottles, band aids, and everything else that you probably won't use but think you need.

Before you resort to giving each kid a tablet, you can skip the hassle by letting us, your neighbor, set up a party you can't forget. Jumping on a large bounce house for kids doesn't incite fights as often as video games. Our safe and durable equipment ensures that the children can have all the fun without the worry. Best yet, you don't even have to worry about the cleaning. At the end of the day after every kid is tired out, we come in and take everything down.

It gets hot here in Austin, so we give you the option to have some water slides and bouncing equipment. We know what it's like to have a group of sweaty kids. Just throw some water on them for some great summer fun. Browse our great selection of inflatable party and concession rentals for your next event. There's a reason why bouncy castles haven't gone out of style!