What to do When Renting a Jumpy Castle for Your Party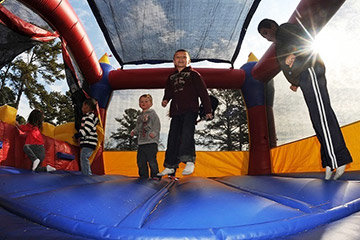 When you are looking for an inflatable party rentals company in Austin, TX, there are a handful of things you will want to keep in mind to help determine whether or not the companies you're looking at are worth your time and consideration. Although working with us means you are procuring a physical item for a limited time, we are a service business that sells services.

That might sound at odds with the fact that you can rent all kinds of inflatable party products through us, but what you're really ordering from us is the set up and taking down of the item or items you rented. The main thing to keep in mind is that, at the end of the day, you won't have more stuff than what you started. Since we are veteran owned and operated, we offer our customers the utmost in and attentiveness that is unmatched by other businesses in the party rentals industry.
Getting Ready

Once you are absolutely sure that you are going to rent an inflatable for the party, you should get in contact with us immediately. That is especially the case if you are planning to throw your party during the spring or summer, since those months can lead to all of our inflatables being rented out. Additionally, booking with us early will mean having access to a larger selection of themed bounce houses.

We understand that some people may like to wait to make a reservation for their jumper until they know without a doubt that it is not going to rain. However, waiting for that kind of certainty can leave you making your reservation far too late and you run the risk of either not getting the right bounce house, if you're able to get one that fits your space at all.

Either way, there isn't any risk involved with making your reservation early with us. If you have to cancel your reservation due to poor weather, 512 Bounce gives you a handful of options. You can either request a refund or choose a new date to reserve the bounce house.


Pick a Space

Though you might not want to put much thought into where the jumpy castle will go because we will be setting it up, there is still a few things you should do before we show up on the day you reserved the jumper. Most importantly is that you find an area of flat ground that can accommodate a 15' x 15' bouncy castle with a few feet of open around around it for a buffer zone. That being said, the ideal space for the bounce house is at least 18' x 18'.

When we get to your party's destination in Austin, TX, all you need to do is show us where you want your inflatable party rental to go. We will haul everything in, set the jumper up with the air compressor and generator, and start inflating the item you rented. From there, our party rentals take about 20-30 minutes to inflate before they're ready for your party to kick