Summer Fun for the Kids Without Having to Leave Your Yard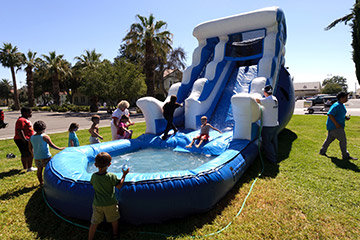 Any parent can tell you that having small children is rather limiting. Because of those little ones, parents of elementary school-aged children (which is generally between around 5 up until about 11 years old) can have a difficult time during the summer trying to get everyone ready to go out, packing them in the car, and keeping an eye on everyone while you're at whatever destination you went to. In many cases, parents don't get to fully enjoy wherever they went as a family because so much of their attention and energy is put into watching their kids and making sure everyone is safe and taken care of. If this situation sounds like you, we are here to offer you some alternatives for fun in the summer that doesn't even involve you having to leave the comfort of your own yard -or a nearby park for those who don't have a yard.
But here's the thing - when it comes to just hanging out at home and looking for something interesting and new to do, have you considered renting an inflatable bounce house, water slide, obstacle course, or interactive game? We would be willing to bet that most people haven't ever thought about that, even though it can be super cost effective, especially if you invite friends and family to join you.

At first it might seem like a wild idea to get a bounce house or water slide when you don't have a birthday or other party to celebrate, but it's no less wild (and far more affordable) than going to a theme park or waterpark. At least with an inflatable in your yard, you can very easily watch everyone.

Depending on the kind of summer fun you're aiming for, we have quite a few inflatables for you to choose from. To help guide your decision, we have a few suggestions below:
Inflatable Games and Activities
For those who want to have a fun time but would like a little structure to what the kids are doing, some of our inflatable games and the inflatable obstacle course make for a perfect addition to any sunny summer afternoon. For these, check out our Nuclear Obstacle Course and the Bungee Run.
For Competitive Kids
Sometimes kids just want to compete. What's great about these days is that they will burn almost all of their energy when going up against a sibling. Rather than seeing your kids wrestle in the grass and possibly get hurt while doing so, we recommend renting either the Gladiator Joust or our Galaxy Games inflatable.
Water Time
Did you know that we have inflatable water slides available to rent? These are a real game changer when it comes to having a blast at home during summer even when the heat starts to rise. If this is the first time you're hearing about these, you might be asking yourself "
are inflatable water slides safe?
" But you don't have to worry - they're very safe to play on and slide down. For those looking to go the water route, the 22ft Rocky Marble Slide is the way to go!