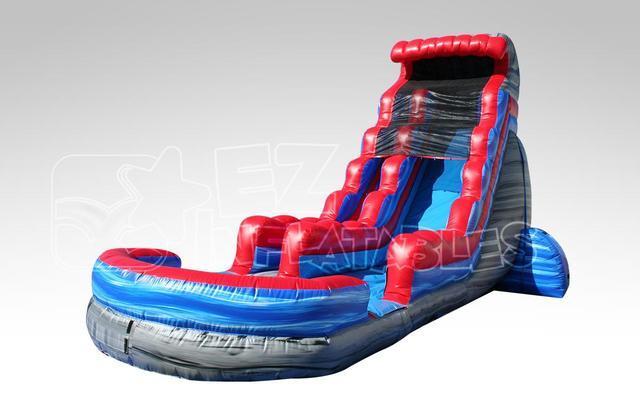 22ft Rocky Marble Slide
22ft Rocky Marble Slide Rental
This amazing "22 foot Rocky Marble Slide rental" has now arrived in Pflugerville and is offered to rent for your party or occasion in Austin! It's a wild and rocky waterfall trip with lots of bouncing action!
We are a qualified, fully-insured, and family-operated veteran-owned business. We use lead-free and USA-sourced products for our inflatables. Our clients receive the best in customer support. Also, we clean up and purify every inflatable rental by the end of its every usage. You definitely will see how much care and effort we put into our inflatables at the end of your occasion too! We work with safety and standardised compliance in mind. You can rely on our company to ensure a proper rental. We have actually been in business for years and our client fulfillment is a top goal. Never look past quality, call us and rely on us to make your celebration a success.
Call us today!
We can deliver the Slide Rental to Austin TX as well as any of the following places: Pflugerville, Cedar Park, Round Rock, Leander, Bastop, Buda, Hutto, Wimberly, and Georgetown. We are located in Pflugerville and can accommodate for household parties, church events, festivals, corporate special events, and more.

Please do not hesitate to send us a friendly e-mail so that we can get to know each other and speak about the inflatables you are interested in. Our team will get back to you as soon as we are able to, and figure out the specifics for your event. Alternatively, if you would like to talk sales with us over the phone, please contact (512) 783-4643. Take a look at the products below and click the image (or title) for more info. Finally, please contact us to get a booking.

We can also touch base by talking over Facebook.
Like our page today!